Victoria University, Media Release, 8 Sep 2023: Victoria University (VU) has officially opened Victoria University Brisbane (VU Brisbane), a new flagship campus.  Modelled on the successful Sydney campus, VU Brisbane will work in partnership with the Education Centre of Australia (ECA), offering international and domestic students globally recognised and industry-relevant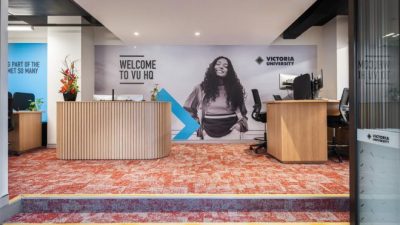 courses taught by experienced academics.
VU Vice-Chancellor Professor Adam Shoemaker said VU Brisbane is set to transform the lives of prospective students.
"We are incredibly proud to offer international students a chance to discover VU Brisbane. It marks an exciting opportunity to forge a career that is every bit as inspiring and unique as they are," Professor Shoemaker said.
"VU Brisbane will ensure students have the skills to either embrace further study or embark on an in-demand job. These students will join over 13,000 VU international students from across 108 countries."
Located in Fortitude Valley, one of the city's liveliest hubs, the new campus offers excellent teaching quality, with a strong focus on employability, along with the VU Block Model®, VU's award-winning approach to learning.
With smaller class sizes (maximum 35 students), three-hour classes, and fast and effective feedback, the VU Block Model actively supports positive outcomes for students.
VU Brisbane has spacious rooms and workshop-style classes that encourages collaborative learning, while ensuring teachers and classmates get to know each other in a supportive and inclusive environment.
"With nearly a hundred students already enrolled in future-focussed courses across IT and Business, we look forward to meeting the inaugural VU Brisbane cohort. We are ready to do all we can to ensure our students thrive as they begin this exciting chapter," VU Brisbane/Sydney Campus Director, Celina Chopard said.
"International engagement has always been a key focus for VU. Ranked in the world's top 3 per cent (THE World University Rankings), the University seeks to foster transformative educational opportunities for students, while partnering with industries and communities around the world," said Professor John Germov, Deputy Vice-Chancellor of Higher Education.
Along with being one of the most affordable cities for international students in Australia, Brisbane is also diverse, with around 33 per cent of residents born outside Australia, and 20 per cent speaking a language other than English at home.
ECA Founder and Chief Executive Officer, Mr Rupesh Singh, said the company was delighted to build on the partnership with VU.
"After 15 years of growth at VU Sydney, it is exciting to be able to offer to students the same excellent study options in Queensland's capital. We are confident that VU Brisbane will grow in the months and years ahead by offering high quality courses and a fantastic student experience," Mr Singh said.
"ECA is committed to this long-term partnership, and we are grateful for the vote of confidence from VU as they expand their footprint to Brisbane – a city which offers students a wonderful lifestyle and great career opportunities."
VU Brisbane student, Navneet Kaur, is currently studying a Master in Enterprise Resource Planning and is also a student mentor. "University is not just about academics; it's an opportunity to explore your passions, engage in extracurricular activities, and connect with a diverse group of individuals. I encourage VU Brisbane students to embrace every moment, challenge yourself, and step out of your comfort zone."
Explore a 360° virtual tour of Victoria University Brisbane.
For more information about Victoria University Brisbane, contact Frances Atkinson, Media Adviser, Victoria University; frances.atkinson@vu.edu.au; 0435 960 793.
[END]