Source (United States Studies Centre, by Victoria Cooper, Research Editor, 13 Sep 2023): At the top of his presidency in February 2021, President Biden declared "America is back. Diplomacy is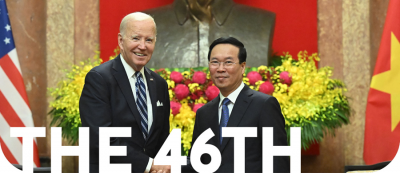 back at the center of our foreign policy… We will repair our alliances and engage with the world once again, not to meet yesterday's challenges, but today's and tomorrow's." The president's recent trips to the G20 summit in New Delhi, India and to Hanoi, Vietnam have only confirmed that commitment to re-engagement, with the United States strengthening its relationships across Asia.
President Biden seized on the conspicuous absence of Chinese President Xi Jinping (for the first time since 2012) and Russian President Vladimir Putin from this year's G20 summit as an opportunity to prove the United States a more reliable partner than its authoritarian counterparts.
As a counterweight to Beijing's infrastructure and development programs, the United States lauded plans for a multinational 'transport corridor' set to link railways and ports in the Middle East to South Asia and enhance trade connectivity. US National Security Advisor Jake Sullivan said the Biden administration's vision for far-reaching investments demonstrates effective American leadership, while other G20 officials praised the plan as an exemplar of growing trust between partners.
Following on from the summit, the United States forged a historic new comprehensive strategic relationship with Vietnam. The upgraded partnership makes the United States one of Hanoi's closest partners, alongside China, marking a significant step in the progress of the US-Vietnam relationship "from conflict to normalisation," as Biden remarked during his trip.
This step is the latest in the progression of the fast-deepening US-Vietnam relationship, with the two countries together seeking diversified supply chains and sharing concerns over China's military aggression in the South China Sea.
[END]